Latest News

/

50th Anniversary of the Revival of Mountmellick Work
Welcome again friends of Mountmellick Embroidery and Heritage Museum, we hope this finds you all well and staying safe and getting back to some sense of normality as we knew it. Thanks to Marie and Storm for the articles below which is part of our program of events, recognising Heritage Week and to the memory of Sr. Teresa Margaret who is responsible for the revival of Mountmellick Embroidery.
Over to you Marie and Storm - thank you ladies.
Ann Dowling
Chairperson
Mountmellick Embroidery & Heritage Committee.
Mountmellick Embroidery and Heritage Museum, Heritage Week Project 2021, in conjunction with the Design and Craft Council of Ireland's 'August month of Craft.'
To mark the above events, we invited the ladies from the museum studio embroidery class to work on pieces individually from their own homes. A contemporary item had been designed and the ladies were supplied with the patterns, fabric, and thread. To our delight we got a very positive and supportive response, and the completed project will involve the skill and creativity of nearly 20 ladies. All have been sewing during heritage week and the pieces were to be completed and brought to the museum today Friday, for a ' special event '! We had planned to celebrate the 50th. Anniversary of The Revival of Mountmellick Embroidery and pay tribute to Sr. Teresa Margaret and her Legacy, with a little exhibition of stories, photographs, a brief talk or two, the viewing of a video from 1991 and a walk through the museum. Unfortunately, due to present Government Covid Guidelines we have been advised to cancel today's event. This is most disappointing, however understandable, and of course safety must come first.
The individual embroidered pieces will now be prepared and assembled by the design team, creating a contemporary piece, while staying true to the original Mountmellick Embroidery craft. The completed work will be launched on Culture Night, Sept. 17th., and then become part of the contemporary museum collection where it will remain on permanent display. We will record the names of all involved and the number of hours worked.! We are delighted that a community of local embroiderers are working together on this project, especially during Heritage Week, under difficult restrictions due to the pandemic.
No doubt we are all crafting in unison, in thought and practice, if physically apart.
Hopefully in the future will hold a public event to honour Sister Teresa Margaret and her Legacy.
Tune in again next week when we will post another article dedicated to her, with contributions from the museum studio tutors, Dolores Dempsey, and Margaret Gorman who was a constant companion of Sr. Teresa Margaret and played a huge role in this legacy.
We would also like to take this opportunity to congratulate the Design and Craft Council of Ireland who are celebrating their 50th. Anniversary this year, during their first ' All Ireland August Month of Craft '. We are delighted to be members of this successful organisation and to have participated again this year in the DCCI / Council Irish Fashion Designers, (CIFD) collaboration project. We will post an article about that in the near future.
The following is an article, written by museum committee member Storm Powell, with contributions, lovely memories, and comments from some of the ladies from Sr. Teresa Margaret's convent sewing group.
Enjoy the trip down memory lane.
Over to you Storm.
Marie Walsh,
Secretary / Treasurer
Museum Committee.
50th Anniversary of the Revival of Mountmellick Work
Mountmellick Work (Embroidery) is regarded by the National Museum as the only indigenous embroidery in Ireland which dates back to the nineteenth century. Records show that it was first developed by the Quaker community in 1825. However, following the famine, the tradition of Mountmellick Work waned somewhat, and the skills diminished. However, 50 years ago this year, a revival of this treasured and unique craft took place. The resurrection of Mountmellick Work is largely accredited to Sister Teresa Margaret McCarthy, a Presentation nun who taught and fostered a great love of this ancient craft. In 1971, having received a trunk of original patterns dating back 150 years, Sister Teresa Margaret set up a small group of interested stitchers, some of whom are still continuing the craft to this day.
Mountmellick Work is a floral whitework using white cotton thread on white cotton fabric and it depicts the flora and fauna of the locality of Mountmellick and its surrounds. Each piece of fringed embroidery is a unique piece of work.
Annie Kelly, now 86, was one of Sister Teresa Margaret's first pupils and remembers when she first started embroidering Celtic designs in coloured thread on báinín. During this initial stage, Sister Teresa Margaret received the old trunk of original Mountmellick patterns and quickly discovered that they were designs of the original Mountmellick Work which was a white on white embroidery completed on flour sacks. Annie Kelly still has pieces of Mountmellick Work which were embroidered on these old flour sacks. Annie recalls "We went to Emo Woods and gathered leaves and flowers which were then traced onto pieces of paper," and she remembers Sister Teresa Margaret and herself comparing the flowers they picked with those depicted on the old patterns. "Sister Teresa Margaret was a wonderful lady," says Annie. "She always said that the embroidered pieces were to be enjoyed by those who completed them. She never wanted the work to have a commercial element and used to say that no money would pay for the time put into these beautiful pieces and for the sense of love and togetherness that the classes brought."
Annie, who has passed on the craft to hundreds of people, is still teaching the art and hopes to recommence classes in October following the COVID lockdown. "I love the old patterns," she says "and I try to stick to the original 12 stitches that Sister Teresa Margaret taught me. She kept herself busy during COVID by completing a christening gown, bonnet, dribbler, boots and shawl for one of her grandchildren and, over the years, has embroidered a wide range of pieces including pillow shams, bedspreads, altar cloths, and tablecloths.
Mountmellick Work evokes a wonderful feeling of nature," says Annie. "As you sew a flower, you can see the leaf coming to life."
Mary Ging was also one of Sister Teresa Margaret's first pupils. She farms in Brittas outside the town of Mountmellick and has continued her embroidery work up to the lockdown. Sister Teresa Margaret taught the craft to Mary's school going children in the early 70's and this prompted Mary to join Sister Teresa Margaret's adult classes. "I loved the look of the work," says Mary. "Sister Teresa Margaret was a very good teacher; she was easy going and a great pleasure to work with. She advised us on what stitches to do and which patterns to pick. Mountmellick Work depicts the heritage of the town from famine times. It's unique to the town and, hopefully, the craft will be passed down to future generations."
Eighty-three-year-old Peggy Daly has been living in Shaen for the past 60 years. She was always interested in tapestry and embroidery and about 25 years ago, following a visit to an exhibition of Mountmellick Work, joined Sister Teresa Margaret's classes. "I love the stitches used for leaves and flowers," says Peggy who, amongst other items, has completed 2 bedspreads. Peggy frames a lot of her work, some of which has been sent, through the Taoiseach's office, to dignitaries throughout the world. "Mountmellick Work is so uniquely Irish," she says. Her abiding memory of Sister Teresa Margaret was "her love of the craft and her pure delight as pupils blended individual stitches to produce magnificent pieces of work."
Peggy's memories of Sister Teresa Margaret include "her aura of kindness, her love of what she was doing and her desire to perpetuate this beautiful craft."
Ann Holohan from Ballyfin has been embroidering since she first sought guidance from Sister Teresa Margaret about 20 years ago. "She was a wonderful person, so helpful to everyone. She embroidered some beautiful pieces of the work herself." Ann, who has taught the craft over the years, loves to include the harp and shamrock on pieces being sent abroad. "The old altar cloths, tablecloths and bedspreads have now become heirlooms," she says.
Mary Mooney from Brittas also learnt the craft from Sister Teresa Margaret from the early 70's. "She was such an energetic person who was always doing something and taught the craft right up to old age. She was exceptionally kind." Like Annie Kelly, Mary initially produced coloured embroidery on báinín using Mountmellick Work stitches and then progressed to the white-on-white Mountmellick Work.
Thanks to Sister Teresa Margaret and, also, to her diligent and talented pupils, Mountmellick Work is now a live craft that, hopefully, will be perpetuated, valued and loved by future generations in the same way that Sister Teresa Margaret fostered the great love of the art in all her pupils.
Storm Powell,
Mountmellick Embroidery & Heritage Committee
Design and Crafts Council of Ireland
Council of Irish Fashion Designers
Sr. TERESA MARGARET CONVENT GROUP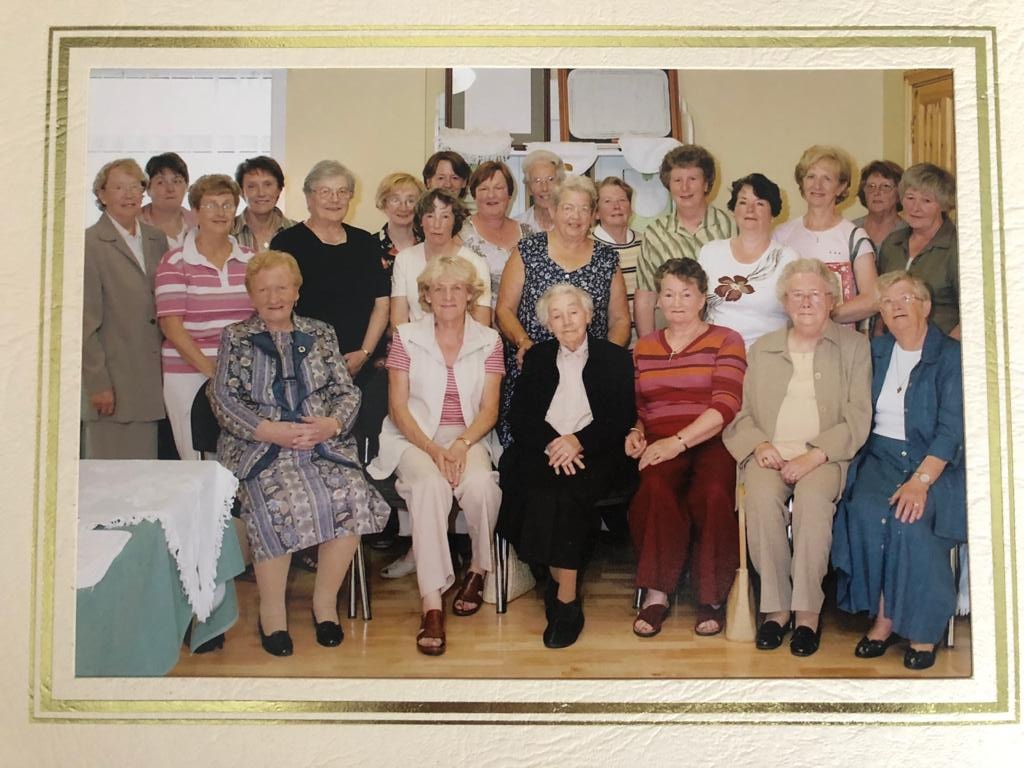 Sr. TERESA MARGARET
Sr. TERESA MARGARET MEMORIAL DISPLAY
SOME PIECES OF EMBROIDERY STITCHED BY Sr. TERESA MARGARET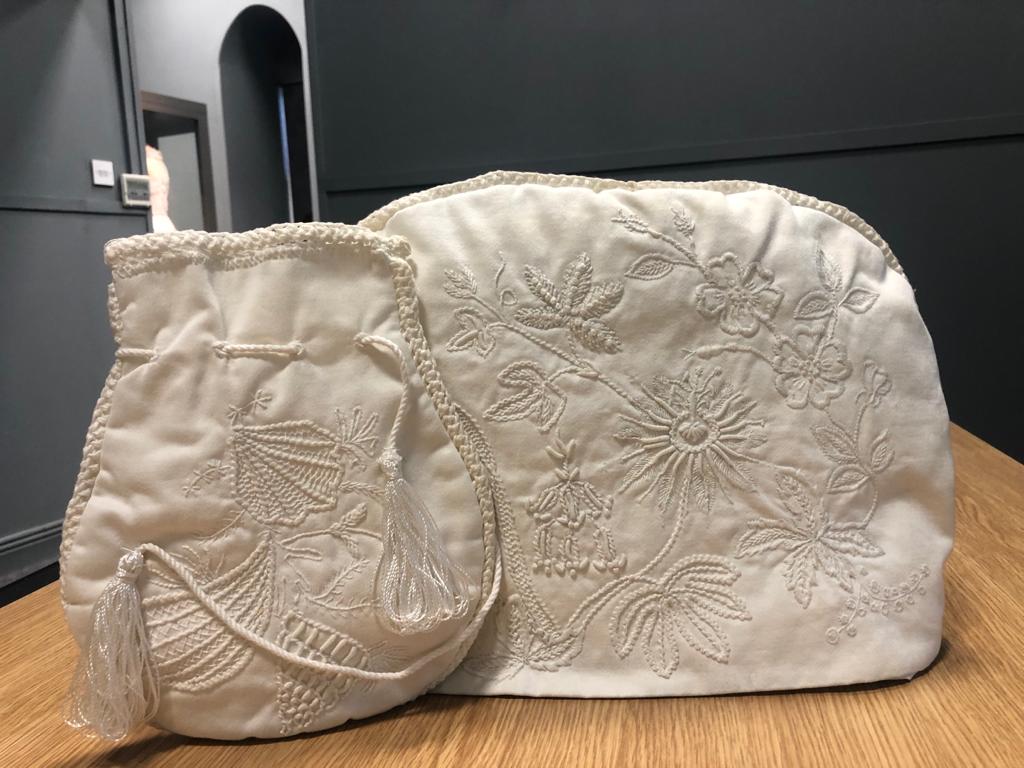 FRAMED PIECE BY Sr. TERESA MARGARET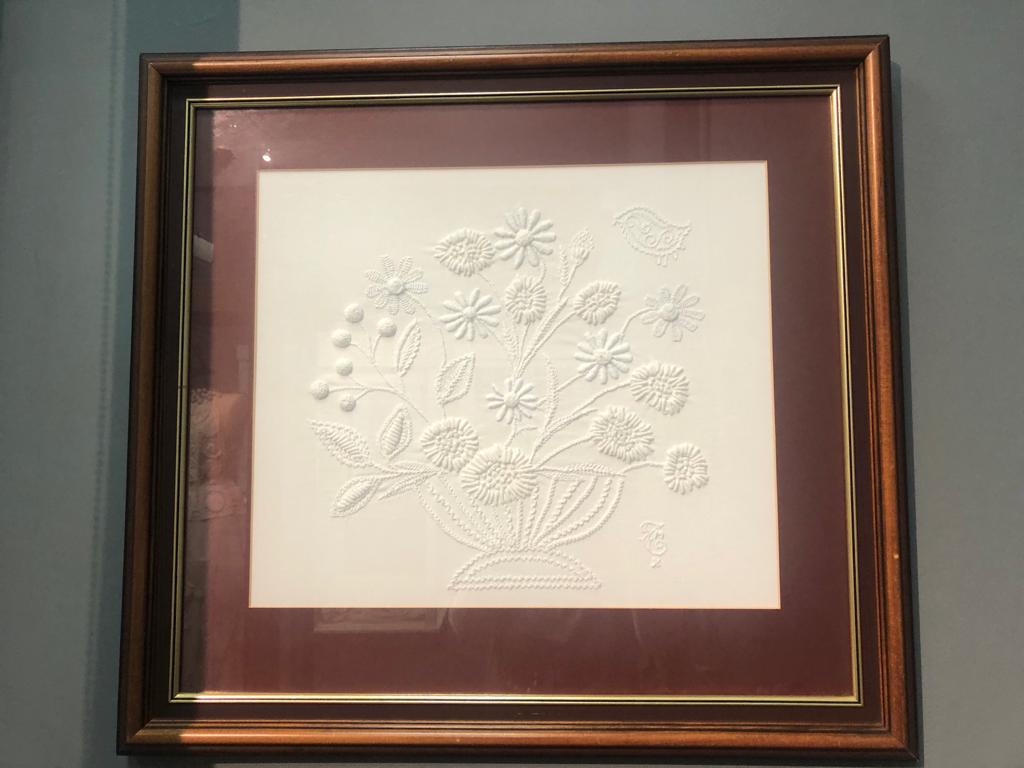 NEWSPAPER ARTICLE ON Sr. TERESA MARGARET AND MOUNTMELLICK EMBROIDERY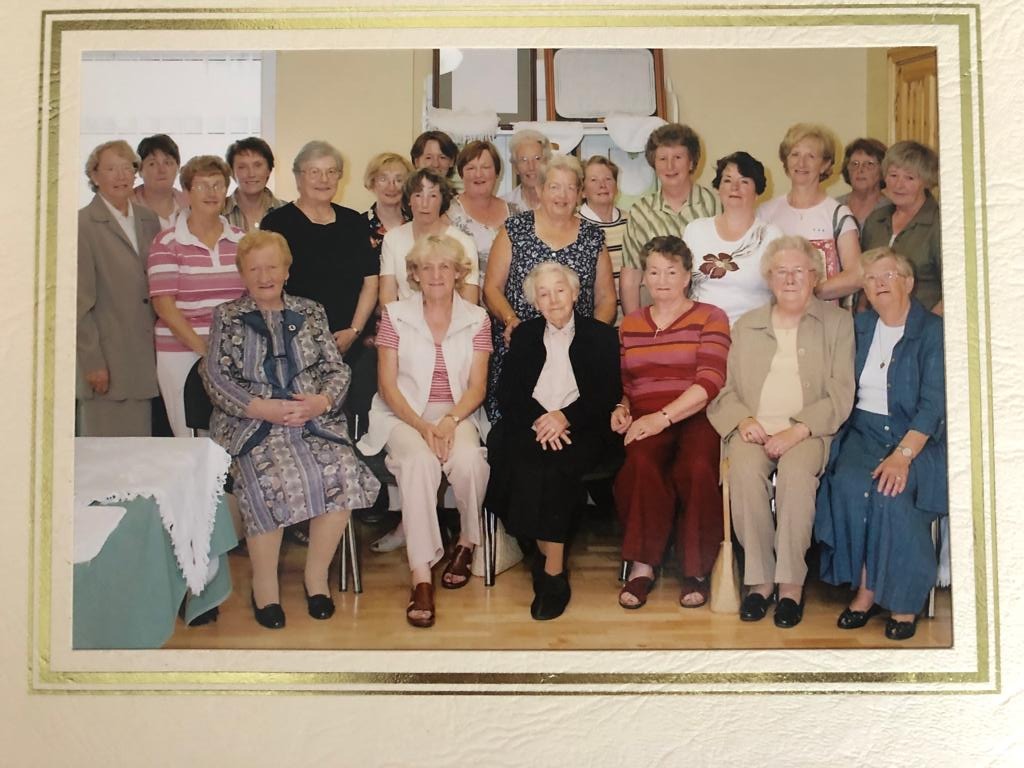 Sr. TERESA MARGARET, CISS GEOGHEGAN AND ANN WESTON ADMIRING SOME MOUNTMELLICK EMBROIDERY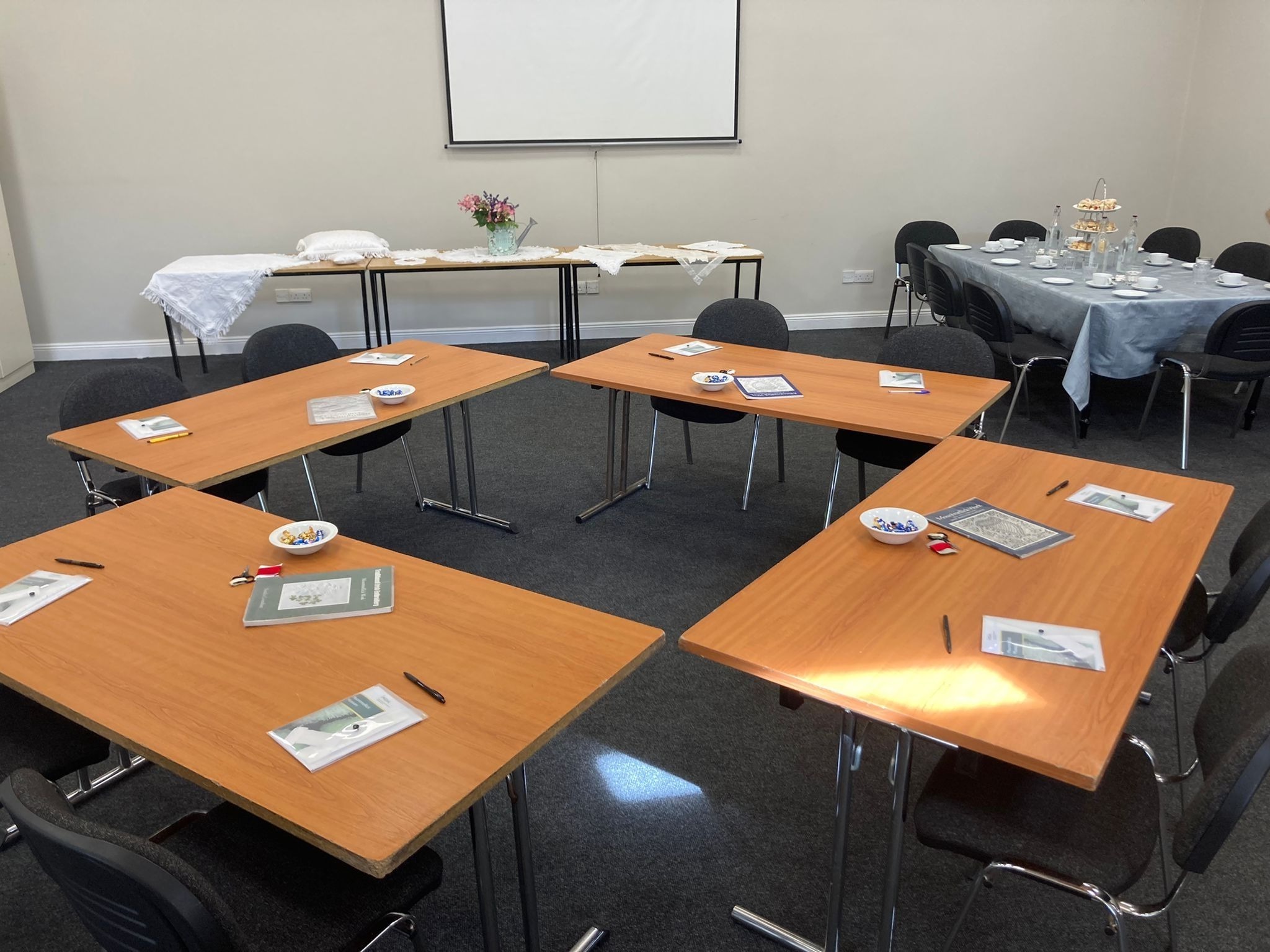 MUSEUM BOARD MEMBER GER LYNCH AND Sr. TERESA MARGARET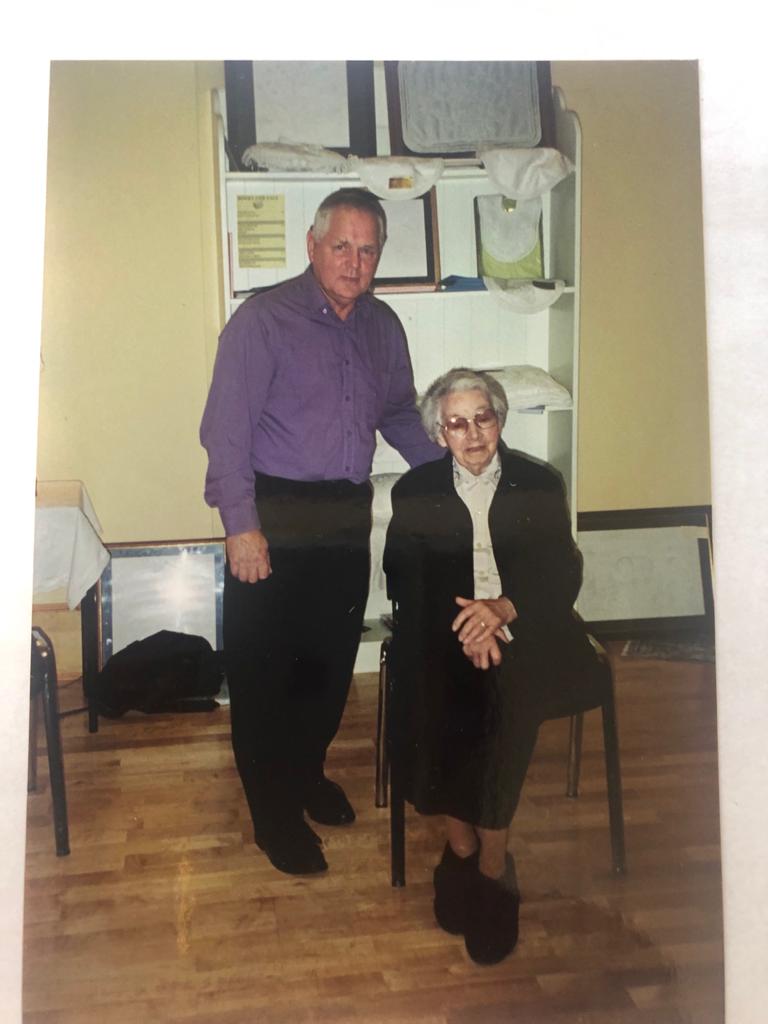 TEA COSY EMBROIDERED BY Sr. TERESA MARGARET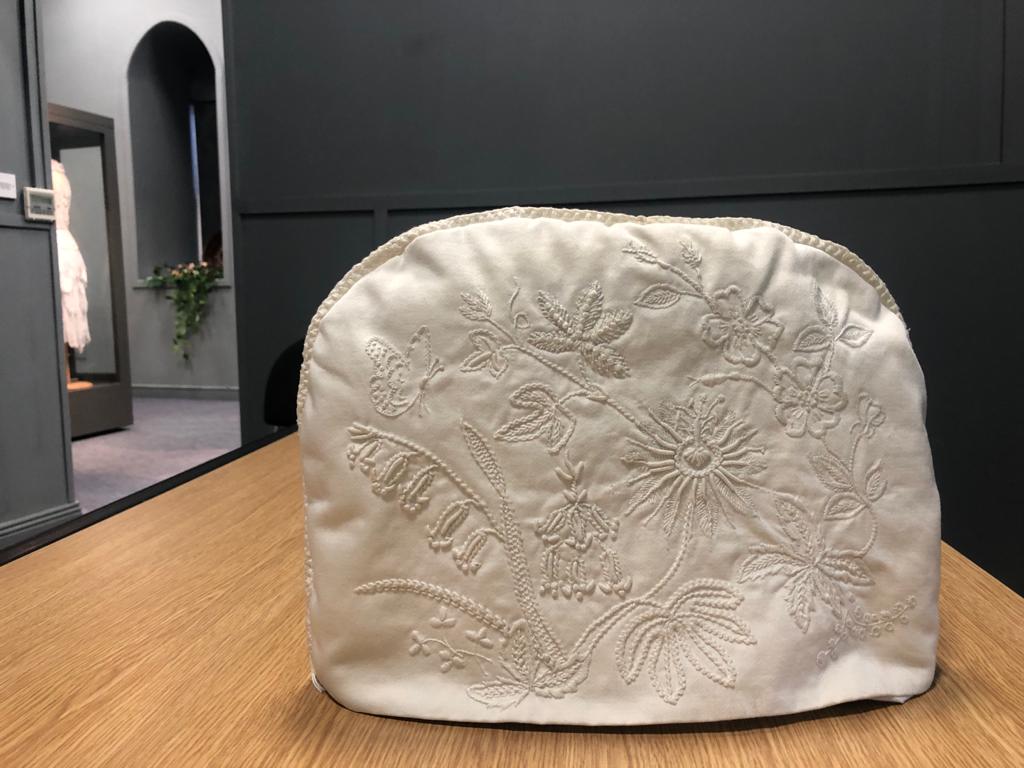 INA STEPHENSON (R.I.P.), PETER STEPHENSON, Sr. TERESA MARGARET AND ANNIE KELLY AT THE OPENING OF MOUNTMELLICK EMBROIDERY MUSEUM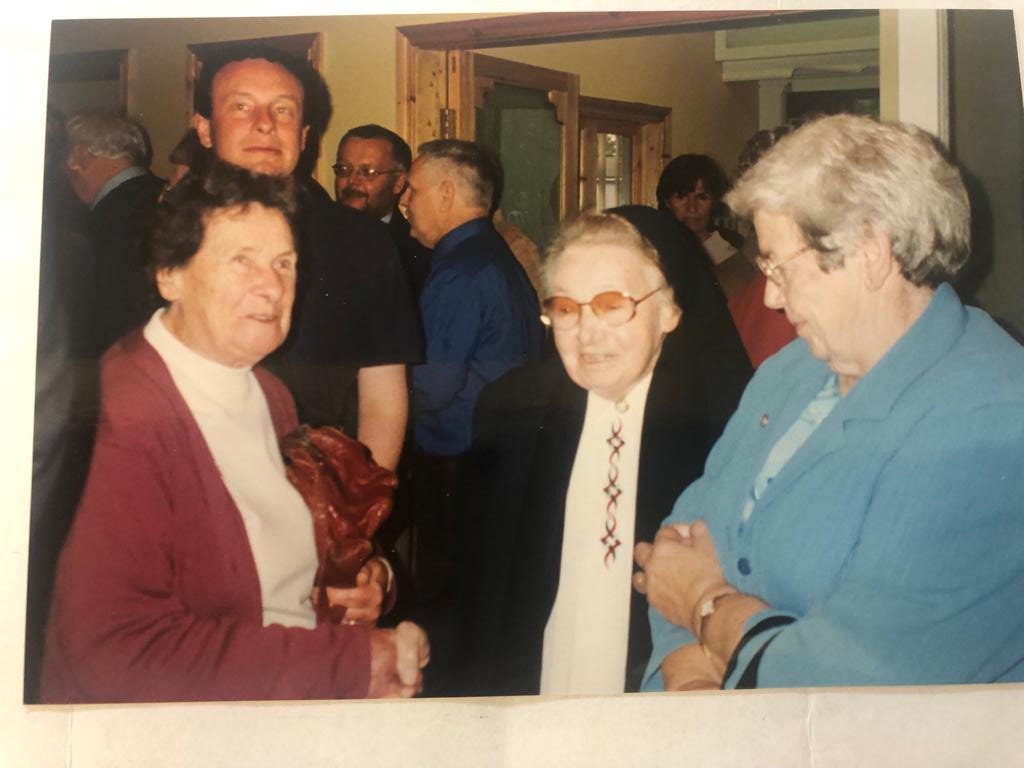 ---
Related Posts