Latest News

/

50th Anniversary of the Revival of Mountmellick Work Part 2
Welcome again friends of Mountmellick Embroidery and Heritage Museum. While Covid 19 is still a cause for concern and in our thoughts daily, I am delighted to be able to share a good news story in relation to our museum development.
This week we are delighted to share our good news item with you. Our recent application to Laois Co. Council / Creative Ireland Equipment Grant Scheme 2021 has been successful. This funding will enable us to purchase a Visualiser and Projector, which will be invaluable for the museum studio tutors and demonstrators giving workshops and classes. They will enable the embroiderers to see the stitching techniques up close, with great clarity and detail all at once. These tools are widely used in schools and colleges with great success. In the current covid conditions they will also facilitate good social distancing in the craft studio and enable the resumption of classes, if tutors and embroiderers are happy and comfortable to do so and government guidelines permit. In the museum setting these tools, used as a document camera or visual presenter can display small objects, fragile documents, or delicate items safely on screen, to be examined and appreciated in a safe way so as to preserve and safeguard the items. Their usage will greatly enhance the embroiderer and visitor 's museum experience. This support is much appreciated.
Supported by Creative Ireland Laois as part of the Creative Ireland Programme 2017-2022 in partnership with Laois County Council
Today on Zoom we saw the Annual CIFD fashion show which included the CIFD/DCCI collaboration projects. Congratulations to all the designers and craftspeople involved, including our embroidery tutor Dolores Dempsey who collaborated with Caterine Coyne, and created a beautiful, embroidered dress. Congratulations also to Caroline Mitchell knitwear designer for another outstanding creation and to the other Laois people involved, Heidi Higgins, dress designer, Helena Malone, jewellery designer, Aoife Kirwan, Millinery designer and Ted, (Brendan McEvoy) Leather craft designer, and indeed all involved. It was a wonderful show.
Marie will continue now with an article dedicated to Sister Teresa Margaret and The Revival of Mountmellick Embroidery 50 years
Ann Dowling
Chairperson
Mountmellick Embroidery & Heritage Committee.
Following on from Storm's article last week, we continue to remember and pay tribute to Sr. Teresa Margaret and her legacy.
So, who was Sr. Teresa Margaret McCarthy? She was born in Abbeyfeale, Co. Limerick in 1911. She received her primary education in The Mercy Convent school, Abbeyfeale. She then attended Presentation College, Thurles and also as a boarder in Presentation College, Mountmellick for her secondary education. She then studied at Carysfort Training College, Blackrock during 1939 and 1940. Having qualified as a primary teacher, she taught in the Presentation primary school, Mountmellick until her retirement in 1977. In 1978 she spent a year doing religious studies in Maynooth and also taught religion in Clonaslee Technical school. Her interest in Mountmellick Embroidery and working at it's revival started in 1971, fifty years ago.
It was her dream that there would be a permanent home for the embroidery in Mountmellick, where it would be accessible and appreciated, and was delighted on 8th. May 2002 to turn the sod for the proposed Mountmellick Embroidery and Heritage Museum being built by Mountmellick Dev. Assoc. Ltd. She was present at the official opening of the museum by Seamus Hosey on 26th. October 2003.
In a letter to me in 2007, while listing out some of the key moments in the story of the embroidery, she wrote, ".....and D.V. The Crowning....The Building of the Museum". She visited the museum in August 2004 with a group of nurses and staff from the Presentation nursing home in Kilcock, where she spent her later years. She taught some of them embroidery while she was there, and then her time had come. She passed away peacefully on 28th. Sept. 2009 in her 99th year, r.i.p.
I have very fond memories of visiting her in Kilcock and treasure the handwritten letters and cards I received from her 2004 to 2008.
During this week, Ann and I had the pleasure of taking a trip down memory lane with two of Sr. Teresa Margaret's star pupils from their primary school days and later in her convent class, and who have continued, at her request, to hold Mountmellick embroidery classes in the MDA building which they started in 1994. In more recent years they run their weekly drop-in class from the museum studio. I speak of course of Margaret Gorman and Dolores Dempsey. Dolores is very well known locally and afar from her work with the museum, her workshops and demonstrations, commissioned works, collaboration projects and presence on social media.
Her contribution to Mountmellick embroidery as a living craft is immense. Her dear friend and co-tutor, Margaret has perhaps contributed even more!
As she was there with Sr. Teresa Margaret right from the very start. Margaret remembers, as a child, attending Sister's sewing class on a Saturday morning in the convent garden, making an apron and embroidering a hanky. Then later she joined the convent class. Margaret is an accomplished embroiderer and knitter. Her grandfather and uncle were both tailors in Roscrea, and her mother did a lot of knitting and sewing, so it is no wonder that she has such a natural talent. As her three children were growing, she would make dresses for her two girls, Joan and Susan and knit jumpers for them both and her son Martin. While she also enjoys patchwork her first love is the Mountmellick Embroidery. Over the years she has made many beautiful items, but her 'family heirloom' pieces have to be the wedding dress she made and embroidered for Joan and a christening gown worn by her five grandsons on their christening days, items to be treasured.
I had the pleasure of being taught by and later knowing Sr. Teresa Margaret very well, but I am not alone!She had a meticulous set of files, records and correspondences which she donated to the museum, including the names, with many addresses of her embroidery class students, and other people interested in embroidery from all over the world. She had a great love for music, she taught me to waltz! And was well known for her love of the Irish language. Invariably she would include the cupla focail as gaeilge into a sentence.I attend Margaret and Dolores's embroidery classes, and I must say that it is due to Margaret's gentle, kind and patient teaching method, that I have mastered the cable plait stitch, which is now my favourite one. Both ladies give great help and encouragement, and as Sr. Teresa Margaret would say," it wasn't perfection that counted, but the enjoyment in the doing of it, and the chat".
During the '80s and '90s when Sr. Teresa Margaret was ' on the road ', teaching classes in various locations, the late Mrs. Betty Dunne, r.i.p. from Emmet St., and Margaret were her travelling and teaching companions, with Margaret as chauffeur!
Sr. Teresa Margaret also taught in An Grianan, I.C.A. headquarters, Co. Louth, during Laois week, for a number of years.
As we looked through the files we came across a page of little prayers and our two tutors remembered Sr. Teresa started her class with one of them:
" God Bless our goings out, our comings in,
Our homes, our friends, our kith, and kin,
Our hopes and plans, our work and rest,
God Bless our lives as he seeth best".
I am sure many, many more ladies must remember that too.
Margaret and Dolores, after we snapped a few photos, took a stroll around the new-look museum. Some of their own embroidery pieces are in a set of display drawers, which also contains Margaret's first piece worked in the 1950s!
It is nearly 200 years since Johanna Carter created Mountmellick Embroidery. It was taught and promoted by Johanna, Margaret Beale, Anne Jellicoe, Mrs. Miller, and many more during the nineteenth century. It was revived and promoted by Sr. Teresa Margaret and all her helpers and students in the twentieth century and continues to prosper now in the twenty first century. It is taught locally, nationally and around the world by gifted women to whom we owe a debt of gratitude. Perhaps equally important are all the people who attend these classes, groups and guilds, who love the craft and reap the therapeutic benefits of ' the doing of it.' We hope Margaret and Dolores enjoyed their trip down memory lane as much as Ann and I did, it was a real pleasure.
Here at the museum, the origins of Mountmellick Embroidery are deeply rooted in the past, but our vision is set firmly to the future.
We look forward to a great celebration for the 200th anniversary in 2025, d.v., hopefully with the Covid 19 pandemic behind us and our doors wide open.
Marie Walsh
Secretary and Treasurer of Museum.
Laois Tourism
SR. TERESA MARGARET HAND'S EMBROIDERING A PIECE OF MOUNTMELLICK EMBROIDERY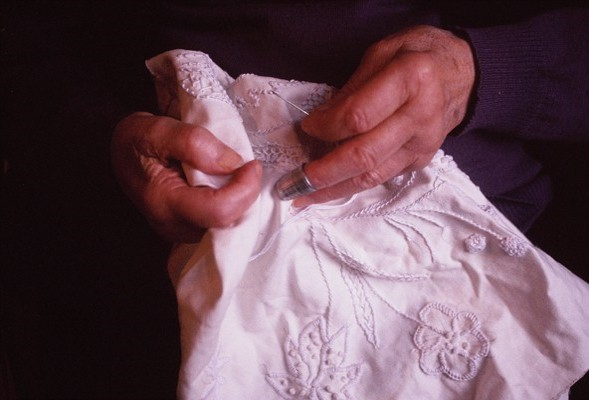 SR. TERESA MARGARET AND ANNIE KELLY
1ST PIECE WORKED BY MARGARET GORMAN IN THE 1950's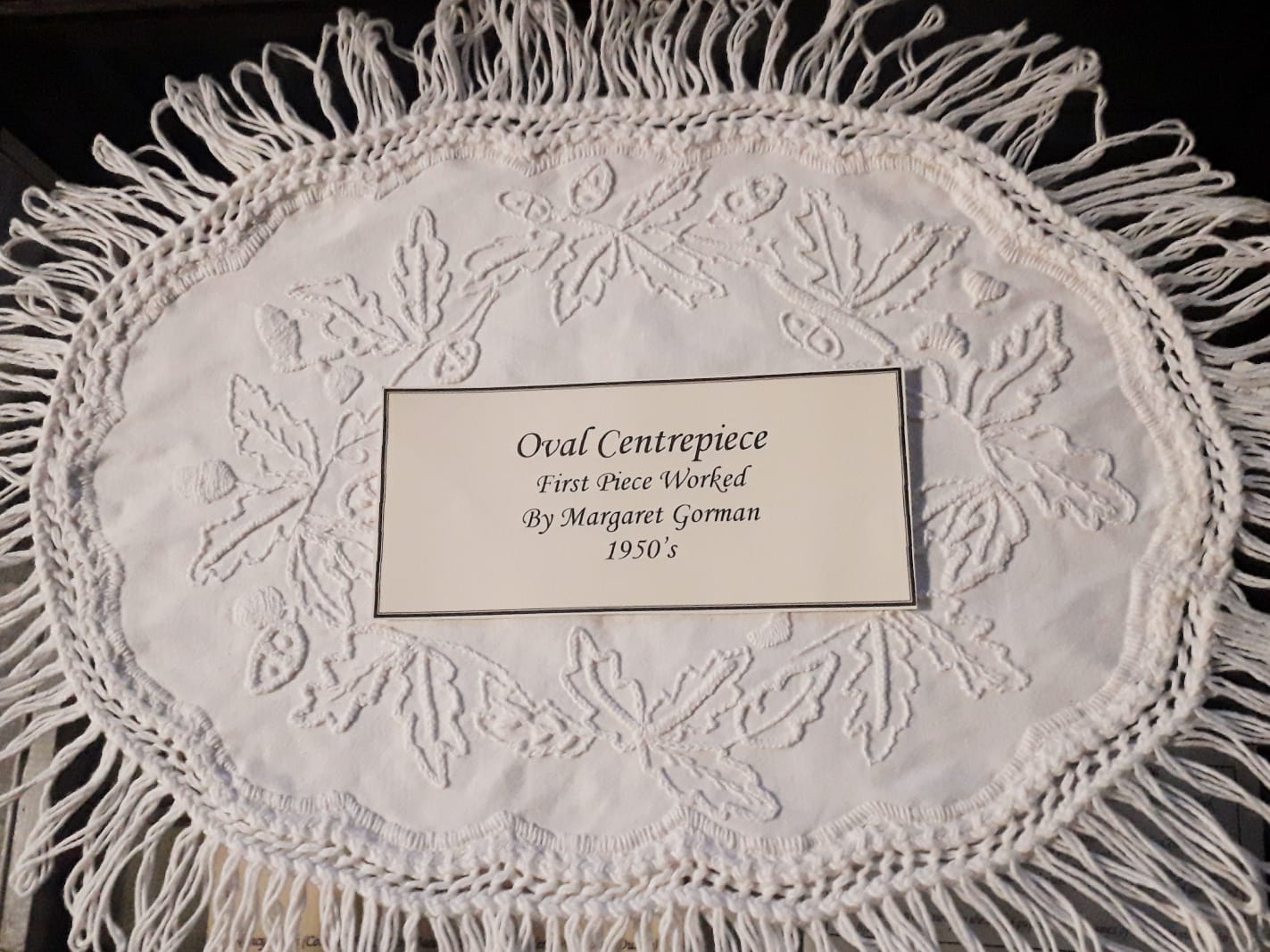 PRAYER SHEETS FROM SR TERESA MARGARET'S FILE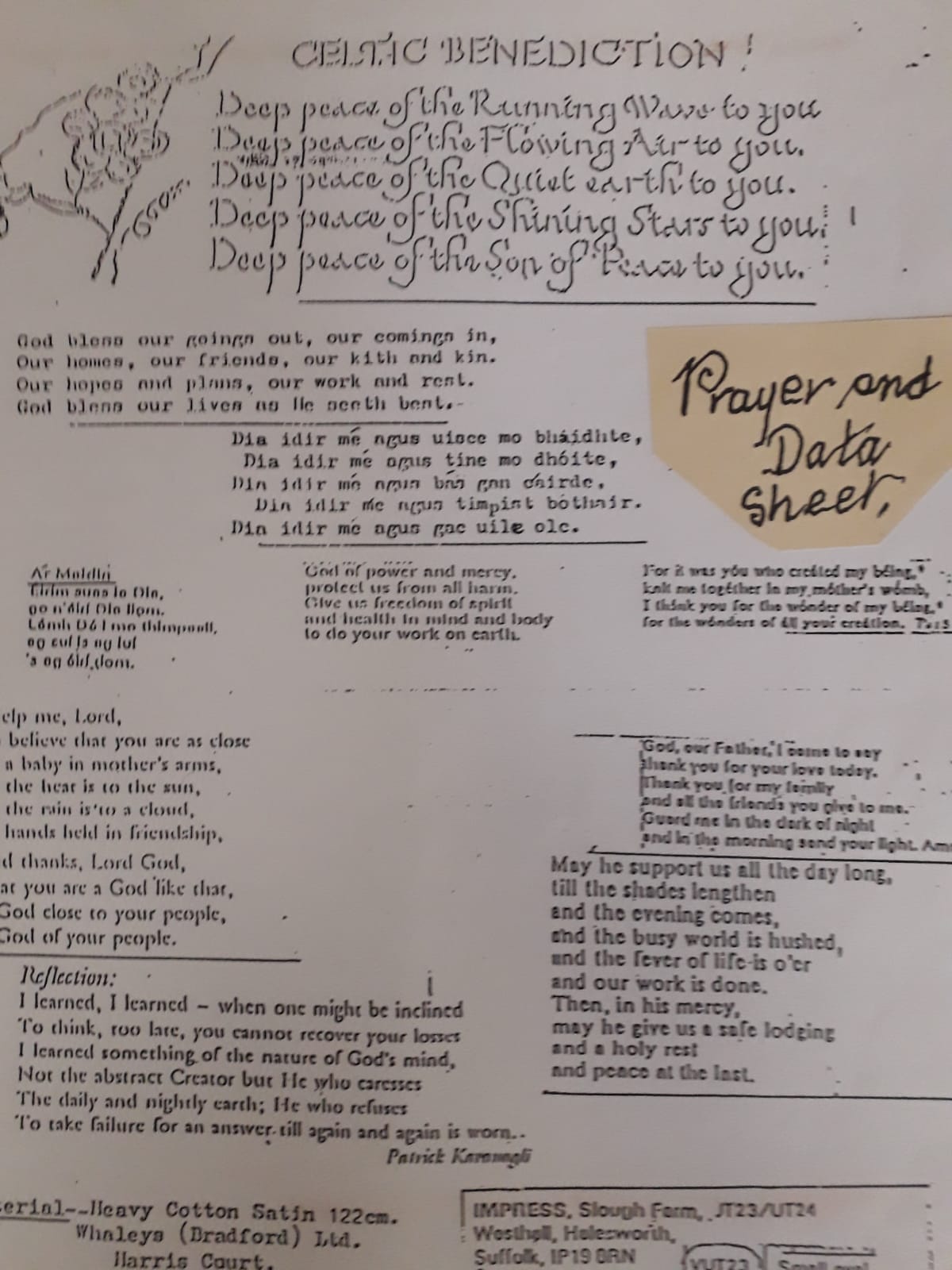 TWO EXPERTS MARGARET AND ANN O'BRIEN DISCUSSING A STITCH IN THE MUSEUM IN 2004
NEWSPAPER CUTTINGS FROM 1991 AND LEGACY ARTICLE 2004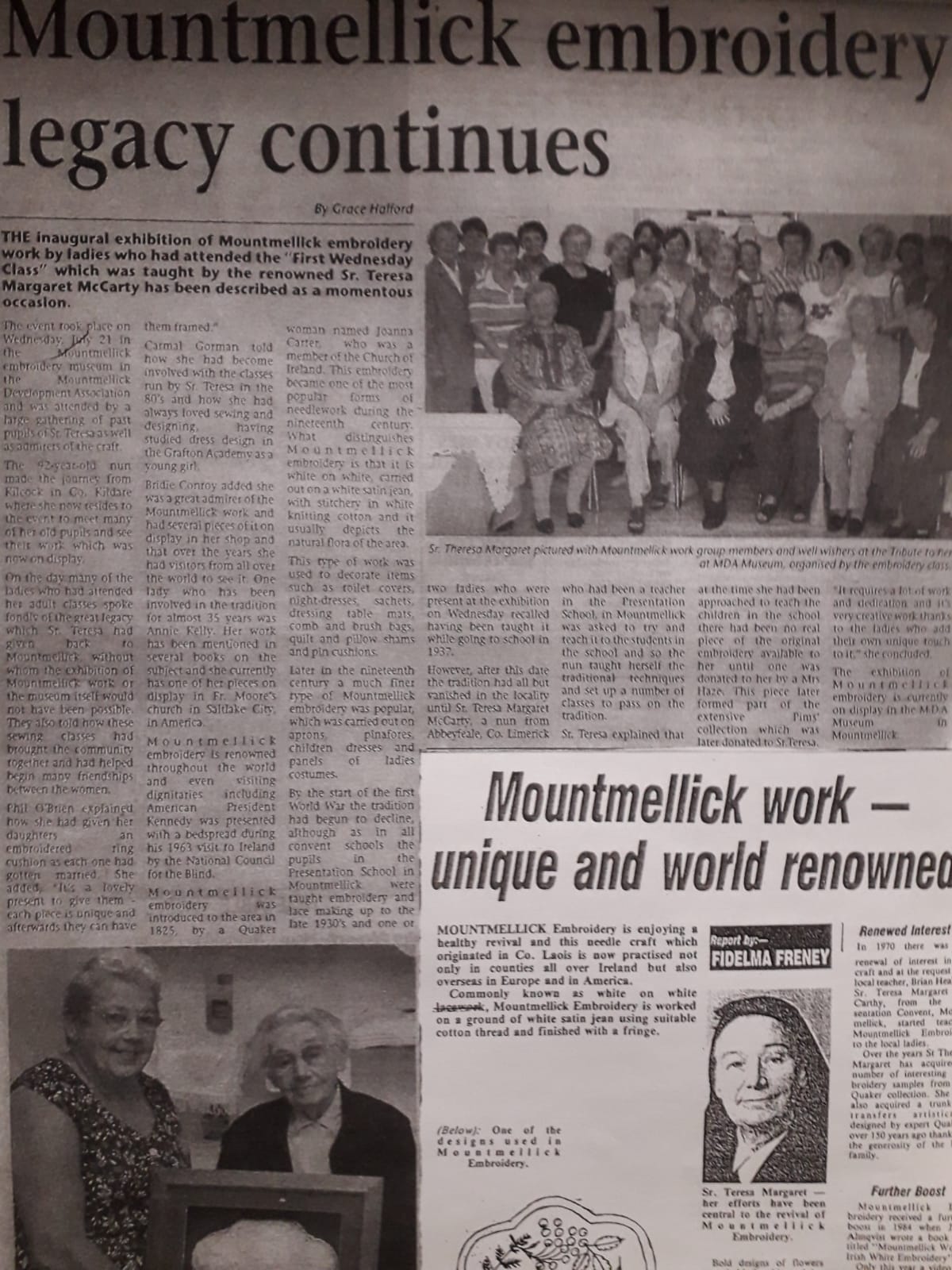 A SELECTION OF SR. TERESA MARGARET'S FOLDERS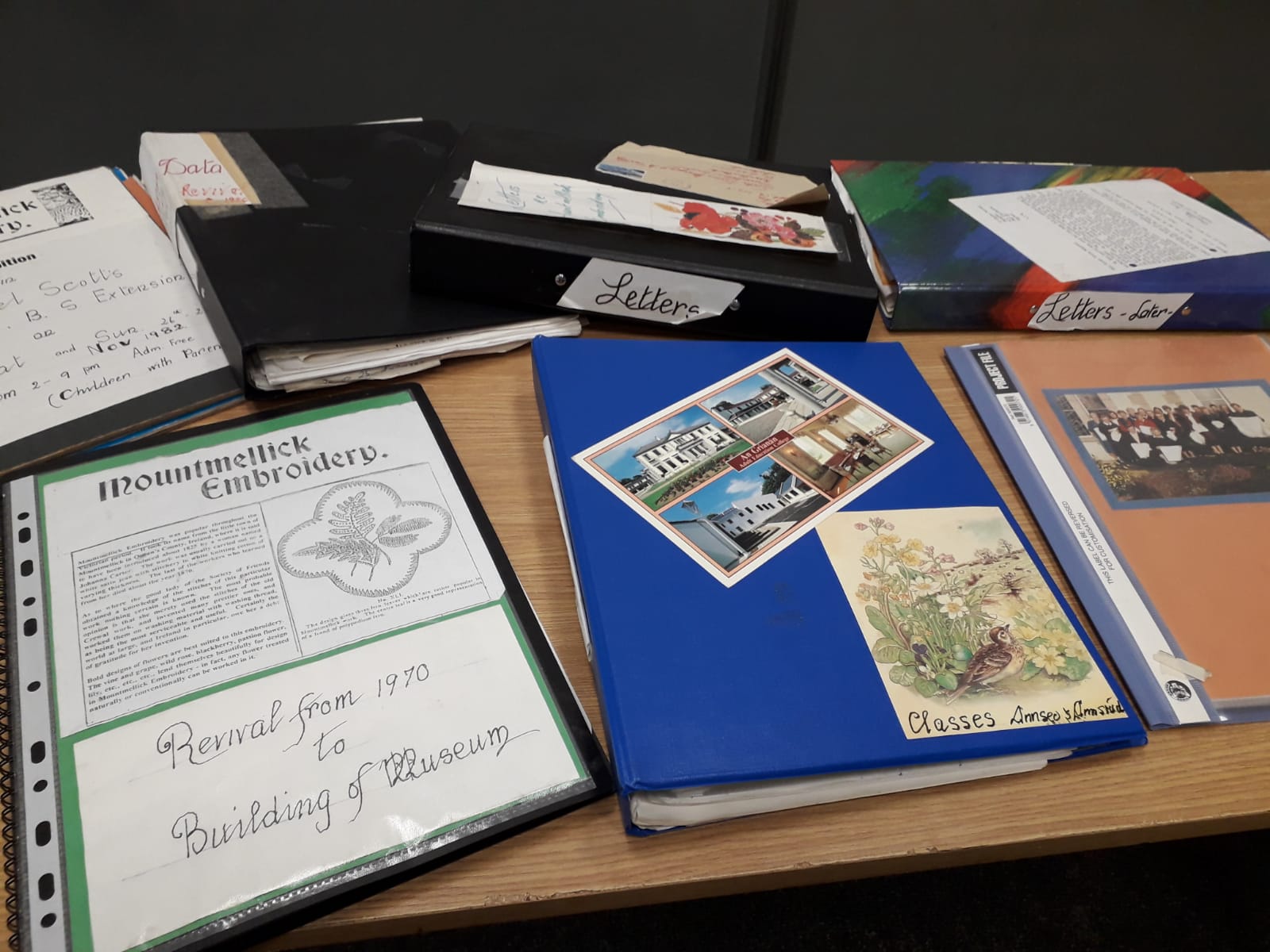 MARIE VISITING SR. TERESA MARGARET IN KILCOCK IN 2005
MARIE, DOLORES, CAROLINE MITCHELL COLLABORATION DRESS AND MARGARET, AT KNIT AND STITCH SHOW 2019
THE TWO PALS DOLORES AND MARGARET REMINISCING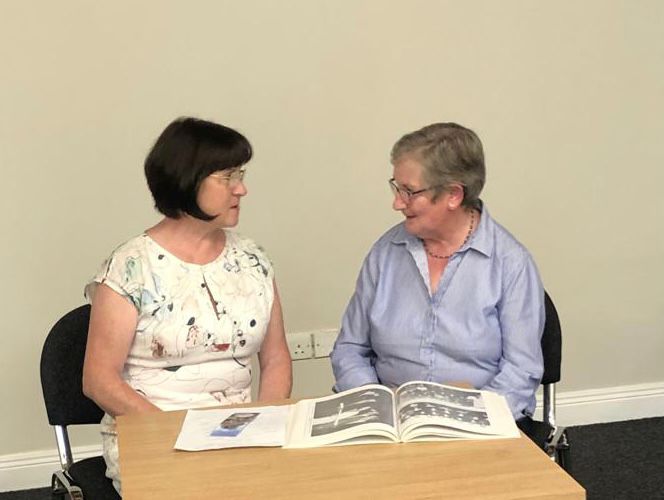 DOLORES, ANN AND MARGARET LOOKING AT SOME OLD BOOKS