We are pleased to announce that we have completed our Museum Conservation Project 2022, Sponsored by
the Heritage Council
under the Community Heritage Grant Scheme 2022.
This project is being funded by a grant of €6,935 from The Heritage Council. It is for (1) conservation work, and installation on a new conservation grade mount for a child's dress and cape, c 1890, which belonged to Gertrude Rice of Mountmellick.
The dress and cape set is made of white cotton and is heavily stitched in Mountmellick Embroidery. Prior to this project the dress was mounted on a dress form which was not conservation grade and was poorly supported. It also had some stains.The work was carried out by Rachel Phelan, textile conservator, at her Dublin studio.
The dress is now cleaned, appropriately mounted, and reinstalled in the display cabinet.
(2) Rachel also provided 3 ladies conservation grade mounts and installed the dresses on them. These are:
The Caroline Mitchell designed dress, created by Caroline,(Limerick / Irish Knitwear Designer) with Mountmellick Embroidery by Dolores Dempsey (local embroidery tutor) as part of a DCCI,GANS and CIFD collaboration project 2018.
The second dress was created by Laois / Irish Fashion designer Heidi Higgins and again with embroidery by Dolores, in 2015. The Mountmellick work on both of these dresses was in strict keeping with the traditional patterns, fabric, thread and stitches, however adapted in a very contemporary way and thus promoting a living craft.
The 3rd. is a hand crochet Wedding Dress created by Sr. Rosarii Fennelly for the wedding of her niece Noreen Brophy married to John Garry, in 1974 and recently launched.
All of these dresses have been donated to the museum for permanent display and we are pleased that they are now on exhibition to museum and conservation standards of best practice.
If you care to scroll back over our museum articles you will find stories and photographs of the above dresses.
(3) Rachel also conserved a Block Sampler by Hannah Davis, c 1802, a student in the Mountmellick Quaker boarding school, embroidered in coloured thread with alphabets, numerals and floral designs. It was donated to the museum by Hazel Grainger from Australia in 2017.
It is the second sampler by Hannah Davis on exhibition in the museum. We also have a Map of Europe Sampler by Hanna c1805 donated by Bronwyn Mutton, of Australia in 2014. Both of these generous ladies are descendants of Margaret and Joseph Beale, prominent Quakers in industry and education in Mountmellick and following their heroic efforts during the famine, emigrated to Australia in 1850, and 1852.
Their story is recorded in a book written by Bridie Dunne, 'Joseph Beale, The Reluctant Immigrant from Mountmellick to Melbourne', which is available in the museum shop. Hannah Davis (from Enniscorthy) was an aunt of Margaret (Davis) Beale. Both of these samplers by Hannah, and a third by Deborah Manley, (donated by Mountmellick Community School in 2003) give us a wonderful insight into girl's education in the 18th and 19th centuries, teaching them practical life skills and also reading, writing, and geography through needlework.
We were also very fortunate this year to have a report on our Sampler collection written and presented to the museum by Clodagh Grubb, an expert on Quaker Samplers, and we stock her excellent book:
'Samplers, Sewing & Simplicity in Quaker Ireland'
. We acknowledge and appreciate her, and husband John's generosity to the museum.
As stated above all of this conservation work was carried out by Textile Conservator Rachel Phelan in her Dublin Studio. We have worked with Rachel, been advised and guided by her over the past 19 years, and we thank her for her professional role in this project.
(4) Our final piece of the conservation project 2022 was carried out by Susannah Kelly, Archeological conservator, who paid a site visit and prepared a written assessment and report on the museum's latest acquisition, a famine pot. This in-depth examination outlines the necessary conservation and installation works to be carried out. When completed, launched and exhibited this famine pot will fit perfectly into our Museum story, told in our visitor introduction video, of The Mountmellick Workhouse, The Great Famine, The Soup Kitchens, The role of Quakers in the famine relief efforts, The transportation of girls from the workhouse to Australia under The Earl Grey Scheme, as told by one such girl Mary Miller in our holographic installation and the Memorial travel box donated by The Irish Prison Service, all tangible reminders to present and future generations, of a grim period in Irish history.
We acknowledge and appreciate the support of The Heritage Council in all our various museum projects, but particularly those over the past three years, with an investment of almost €28,000 which was used to conserve and exhibit our collections to museum and conservation standards of best practice, and greatly enhance the 'visitor experience'. We look forward to many future successful projects in partnership with The Heritage Council and other government sponsors / agencies.
'Our origins are deeply rooted in the past, but our vision is firmly set on the future.'
Marie Walsh
Museum Committee Secretary.
The conserved Sampler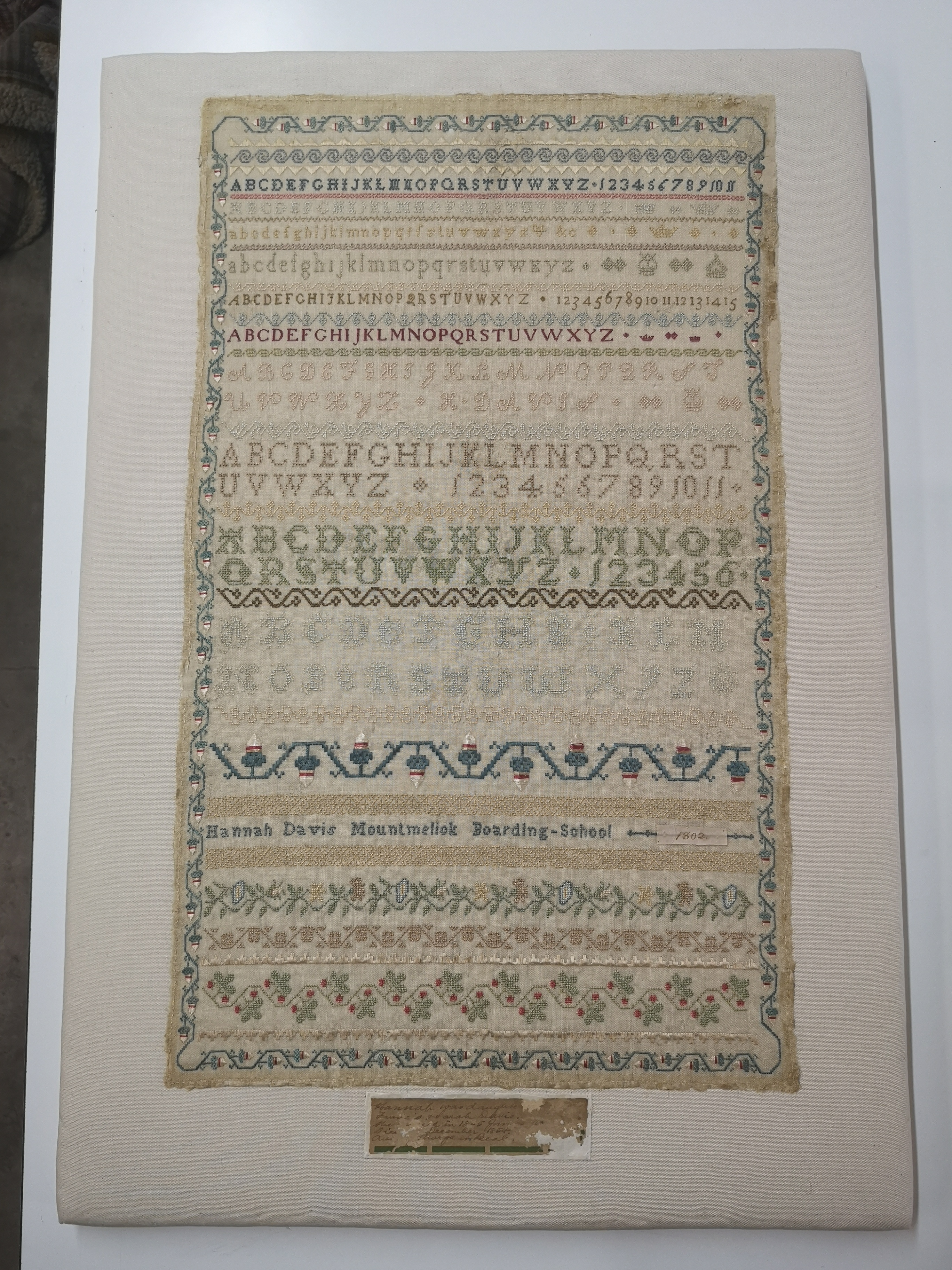 The conserved Gertrude Rice dress on new museum grade mount
The Caroline Mitchell and Heidi Higgins dresses installed on the new museum grade mounts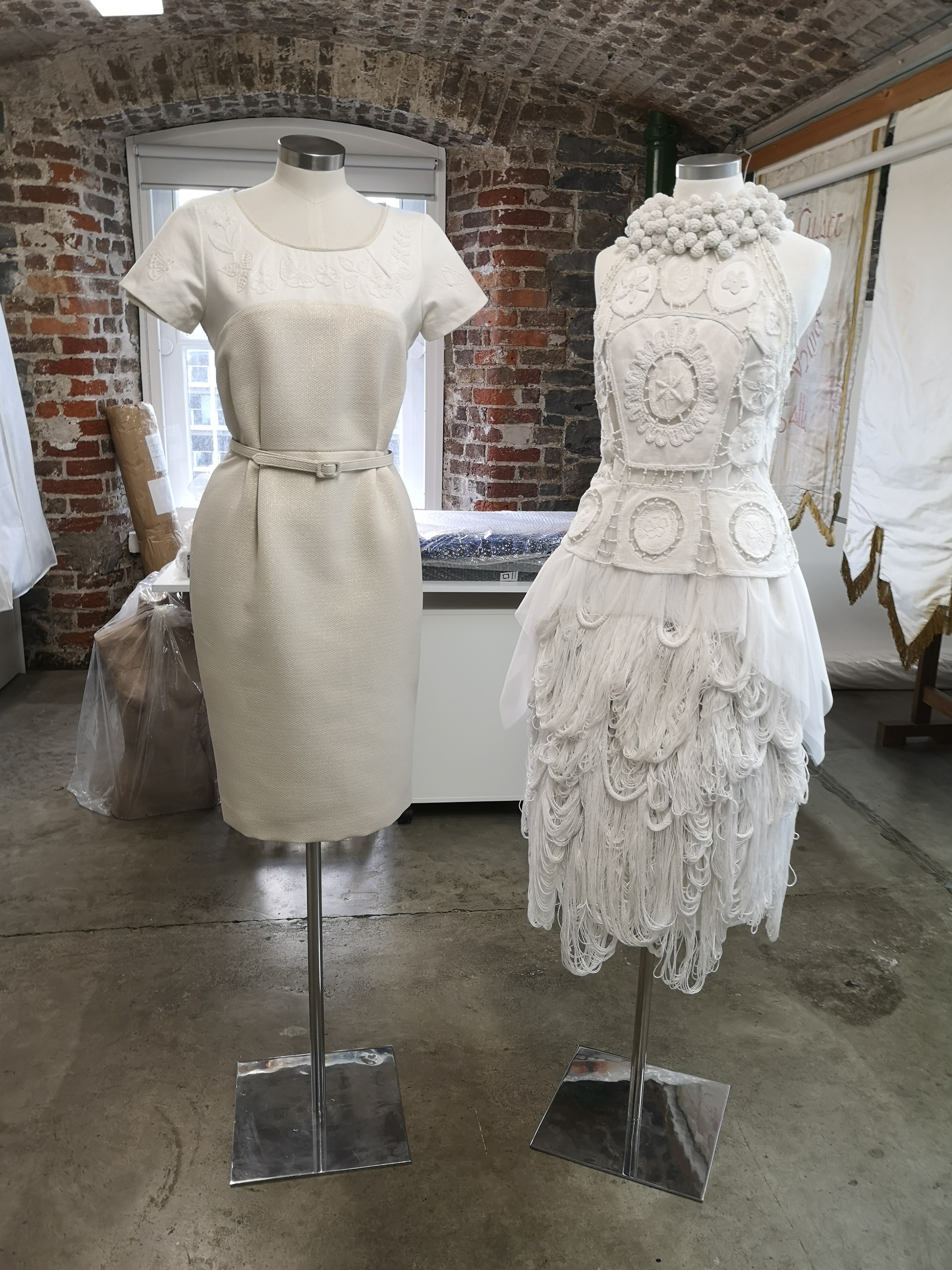 The Wedding dress in the cabinet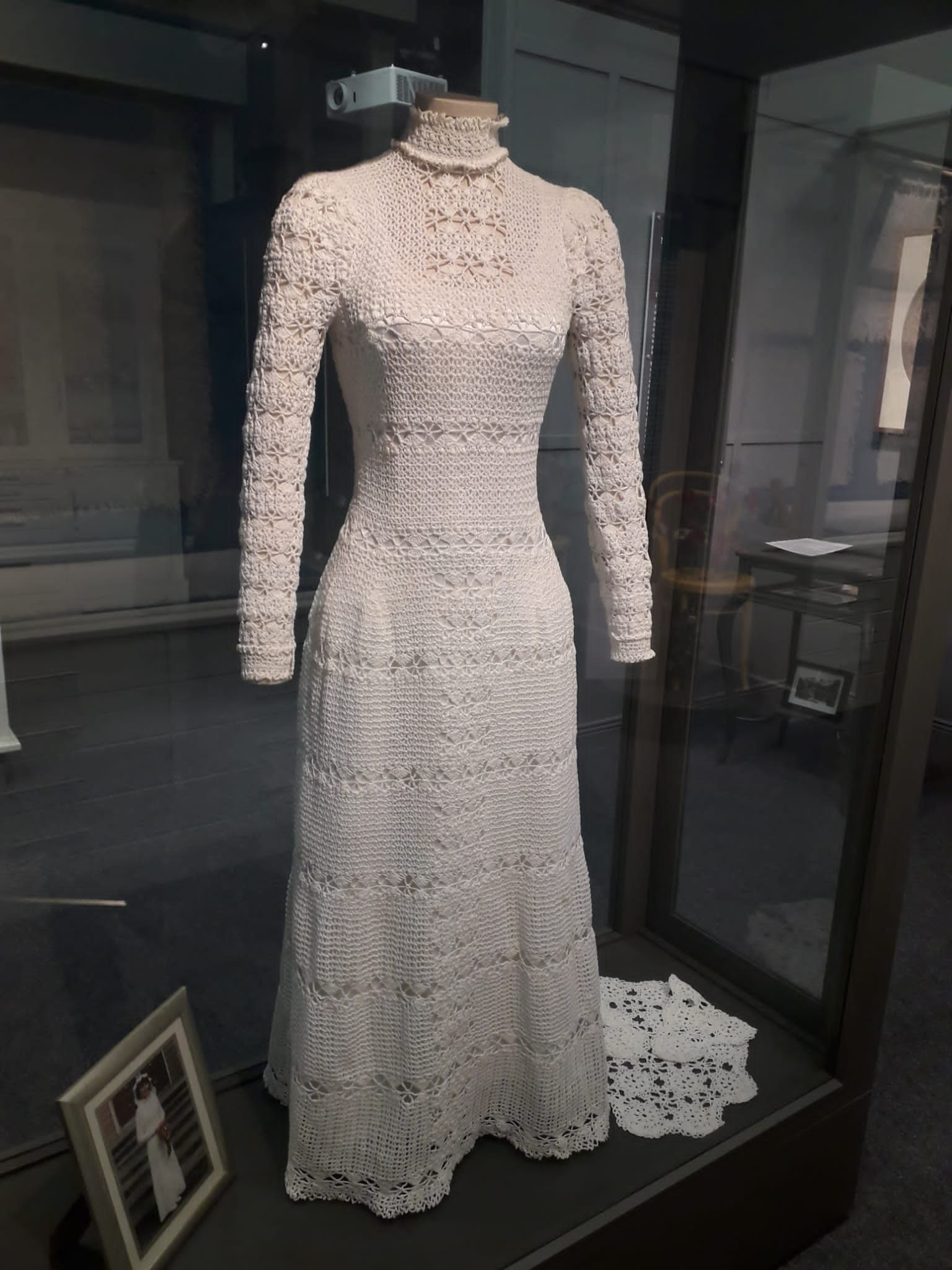 Our Museum Conservation Project 2022 is sponsored by the Heritage Council under the Community Heritage Grant Scheme 2022